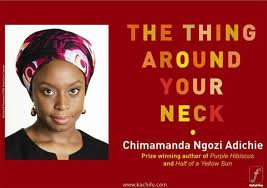 Here comes the summary of one of the books I never feel tired reading; the book of one of those rare autors I never feel bad admiring and almost venerating. I have really come to fall in love with the writing of Ngozi that I feel so sad when I come to understand there are so many young Nigerians who do not know her litterary capacity. I will never stop commending Ngozi's work to all lovers of good books. She is just so good in what she knows well how to do that reading her is just like plunging into the story of the igbo nation. Digest this analyses of Obinna Emelike
"While signing her autobiography on a guest's copy of 'The Thing Around Your Neck,' her latest work, her calm demeanor was unmatched as her almond shaped eyes peered deep into the guest's eye, probing the intension of buying her new book. She would prefer every guest at the book launch not to buy a book they will not read.
What bothers her is why people don't read nowadays. She is also concerned with the fact and saying that the best way to hide a secret from a black person is to put it in writing, is becoming a reality today.
Welcome to the world of Chimamanda Ngozi Adichie, the foremost young fiction writer to come out of Nigeria in the past decade, as she reveals the secrets hidden in books.
Of course, she despises the poor reading culture in Nigeria and on the continent at large. "People come up to me and say, 'I am so proud of you and your success, but I don't read,' with no shame whatsoever. We are raising young people who don't think that reading is important. It really bothers me that more people don't read. They say if you want to hide something from a black man, put it in a book," she says sadly.
Apparently, Nigerians spend less time going through books, indulging rather in other mediums, but it is only the bookworms, according to her, are a select group who are fighting an uphill battle to make reading cool again.
Her first novel, Purple Hibiscus (2003), won the Best First Book award in the Commonwealth Writers' Prize. Her second, Half Of A Yellow Sun (2006), set during the Biafran war, won the Orange Prize. She is a 2008 MacArthur Fellow (otherwise known as the genius award), 'The Thing Around Your Neck,' her latest work and her books are set texts across the world.
Moreover, her short stories have been published in celebrated literary journals and her novels have been integrated into school curriculums worldwide.
With these books, she has made the Nigerian experience coffee table discussion among literary critics, bookworms and fans spanning the different continents of the world. Though Adichie's stories mostly revolve around Igbo Nigerian characters, but she does not merely tell Nigerians stories, she tells human ones.
She is not trying to step into the big shoes of Chinua Achebe, Africa's foremost literature giant and her mentor. Of course, the shoes will be oversize. But Adichie seems to toe the same line of Achebe in telling the Africa stories exactly the way they are.
Growing up in a university campus in Nsukka, Nigeria where her father was a professor and her mother an administrator, afforded her the opportunity to live in the same house Achebe once lived. This also meant a great deal of exposure to books at an early age in addition to her middle-class upbringing. But most of these books had very little to do with her own reality.
What I read were British and American children books, she once said when delivering her now famous 2009 talk on the danger of the single story. "When I began to write, I wrote exactly the kinds of stories I was reading… about things with which I could not personally identify," she narrates.
But things changed when Adichie discovered African books, because of writers like Achebe and Guinean poet Camara Laye, her perception of literature changed, and she started to write about things she recognised and realised that people like her could exist in literature.
Truly, Adichie has come of age as confirmed by Achebe. "Adichie is a new writer endowed with the gift of ancient storytellers. She knows all too well about the power of the story," Achebe proudly remarks of his most likely successor in African literature.
Funny enough, when she was a child at school, her report cards followed a frustrating pattern. Her grades were all As, but the teachers' remarks gave her parents headaches.
"She is stubborn, arrogant, she has no respect," wrote one, after she told him that he was wrong about something. "I remember being angry with my father, being angry with the teacher, just feeling this sense of injustice that I hadn't been allowed to speak," she laughs. "I just didn't shut up, so I got into trouble."
Her teachers must be spitting now, because she has not shut up since and she is doing rather well writing and speaking her mind. She was once asked, "If Achebe were alive, what would you say to him?" He is living in New York and they have met. But she has avoided getting to know him well. "I want to keep my hero separate."
Impressively, Adichie's 'The Thing Around Your Neck,' her latest collection of short stories, is like her, a dazzling hybrid of Nigeria and America, raucous and thoughtful, fun and furious.
Her study and writing have taken her out of the country severally, but when she is in Nigeria, she teaches writing workshops in schools to the kind of children who do not have the upbringing, steeped in literature, that she had.
Most importantly, she feels a sense of huge goodwill from her country and "not just from the little writing circle in university towns. She is stopped in the street by people who want to argue about what her characters did. She has heard about people calling their children Chimamanda. What more can she ask for."
But watch out for more mind-blowing, exciting and revealing books in the pipeline, as the young Nigerian writer expected to venerate Achebe is not done yet." Source:
http://www.businessdayonline.com/NG/index.php/art-a-life/26476-the-african-story-as-told-by-chimamanda-adichie
"The truth might be hard to say, painful to bear or even drastic for the truth sayer but still needed to be said". ALISON.