US agribusiness conglomerate Cargill plans to invest up to US$390 million in a 50,000-hectare oil palm plantation in Cameroon, an official at the Central African nation's investment agency
said on state radio
.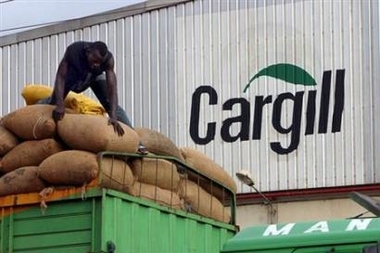 Yaoundé — Cameroon is inviting foreign companies to expand lucrative palm plantations, pitting the country's need for economic development against environmentalists who foresee the loss of important forests.
Since 2009 this West African country has witnessed a sharp rise in interest from companies seeking vast expanses of land for industrial palm plantations in response to increasing global demand for palm oil.
Six foreign-owned companies are currently trying to secure over 1 million hectares (about 2.5 million acres) of land for the production of palm oil in the country's forested southern zone, according to a coalition of environmental organisations.
Jean Kuete, who until December 2011 was Cameroon's minister of agriculture, told journalists last October that palm production is integral to the government's plans for growth, employment and poverty reduction.
"The industrial production of palm oil is a national priority and the many investors in this sector are welcomed," the minister said.
According to information from the agriculture ministry, there is particular interest in land on the flanks of West Africa's highest peak, Mt. Fako, where conditions are good for growing palms, as well as the cheap land stretching through the Southwest and Littoral regions of Cameroon.
OPPOSITION VOICES
But strong opposition is being voiced by civil society organisations and environmental scientists who say the proposed plantations constitute a real danger to the country's fragile ecosystem and the fight against climate change.
In a recent letter addressed to Cameroon's Prime Minister Philemon Yang, the Coalition of Civil Society Organisations in Cameroon called on the government to reject the projects, which they argue will destroy a critical forested zone linking five national parks and protected areas.
"In addition to the direct destruction of flora and fauna, these projects will bring hunger and frustration to the local population," the coalition argued.
According to the government, the companies seeking land include Sithe Global Sustainable Oils Cameroon (SGSOC), which is owned by US-based Herakles Farm and is finalising the acquisition of 73,000 hectares (about 180,000 acres) in the Southwest region.
Sime Darby, a Malaysian-based multinational and the world's biggest listed palm oil producer, hopes to secure 600,000 hectares (about 1.5 million acres) to develop oil palms across the South, Centre, Littoral and Southwest regions.
Siva Group/Biopalm Energy, an Indian-owned group, is in the process of acquiring 200,000 hectares (about 500,000 acres) of land for palm plantations in the South region, where three further companies are also seeking land for the same purpose.
According to government statistics, Cameroon is currently the world's thirteenth largest producer of palm oil. A mixture of smallholders and agro-industrial plantations together produce 230,000 tonnes annually, with 190,000 hectares (470,000 acres) under cultivation.
About half of total production, accounted for by the government-owned Cameroon Development Corporation and companies owned by the French Ballore group, is exported to Nigeria, France and other countries. The government's Rural Sector Development Plan calls for palm oil production to nearly triple, to 450,000 tons annually, by 2020, in part to make up a 150,000-tonne deficit for domestic consumption.
ECONOMIC BENEFITS
"These projects are going to provide direct and indirect employment with an economic multiplier effect, (and) bring more revenue to the state through direct taxes, royalties and utility bills," Kuete said last October. He added that the country's infrastructure would benefit from improvements in roads, schools, electricity and health facilities.
At a meeting in the capital, Yaounde, convened by the Coalition of Civil Society Organisations in early May, David Hoyle, conservation director of WWF Cameroon, said his organisation was worried that the government was rapidly expanding plantations without a proper strategy for land management. He called on the government to debate the issue and to implement a proper planning process for land use.
"These forests are vital for wildlife, including the African elephant, chimpanzee and drill, all threatened or endangered species," said Samuel Nguiffo of the Centre for Environment and Development, a local NGO. "These animals rely on the forests that would be destroyed to survive."
Nguiffo decried what he said was the growing pressure to convert the national forest – including protected areas – for industrial use.
"If environmental standards are not respected, palm production may have consequences (for) soil erosion on the mountain slopes, water quality, and pollution by pesticide runoff," he said.
CLIMATE THREAT
Patrick Libang, of the Center for International Forestry Research, emphasised the role played by forests in the fight against climate change.
"Trees provide essential ecosystem services like carbon storage, watershed protection, water flow regulation, rainfall generation (and) soil nutrient recycling, mitigating considerably the effects of climate change," he said.
The environmentalists said Cameroon's palm oil deficit could be dealt with through intensive production on current plantations, rather than by expanding the area under plantation.
But Nguiffo noted that although increased greenhouse gas emissions from land converted to palm plantations will be a problem, methane emissions from palm oil mill waste will increase even if production on current plantations is intensified without clearing additional forest.
Methane is one of the most powerful greenhouse gases that contribute to climate change.
Herakles Farm, which owns SGSOC, defended its palm oil projects in Cameroon and elsewhere as environmentally friendly.
Elvis Oben, operations manager of SGSOC, said, "No planting will be done on primary forest or high-conservation-value forest, and buffer zones between the plantation and the high-conservation-value (forest) will be maintained."
Oben argued that SGSOC is engaging with local communities through the planning and development process.
"Environmental impact studies have been made, the necessary land demarcations completed. No local villages are expected to move away from their land," he said.
LOSSES EXPECTED
The environmental impact assessment conducted by the project sponsors acknowledges that some fauna and biodiversity would be destroyed in the course of the development of the project. But it says that measures would be taken to mitigate those losses.
In spite of the protests from environmental organisations, local communities in the project zones have largely embraced the projects. The chiefs who represented their communities at the meeting in Yaounde challenged the civil society organisations that opposed the project.
"The NGOs have no right to speak for us because they have never done anything to help our community out of poverty," said Chief Atem Ebako of Talangaye village, one of the project areas in the Southwest region.
"We need development and we know these plantations are going to bring infrastructural development in our area, like schools, hospitals and especially jobs for our children," he said.
Elias Ntungwe Ngalame is an award-winning environmental writer with Cameroon's Eden Group of newspapers.