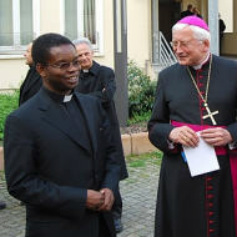 The
Holy Father, Pope Benedict XVI, on Saturday 10th November appointed
Msgr. Fortunatus Nwachukwu, as the apostolic nuncio to Nicaragua. The
bishop-elect was born in Ntigha, Nigeria in 1960 and ordained a
priest on 17th June 1984.
A priest
of the Diocese of Aba in Nigeria, he has a Bachelor's degree in
Philosophy (Urban University, Rome), and completed a Doctorate in Sacred
Scriptures at the Biblical Institute in Rome, before transferring to
the Jesuit Faculty, Sankt Georgen, in Frankfurt, specializing in Old
Testament textual criticism. He obtained doctorate degrees in Systematic
Theology and in Canon Law, respectively from the Pontifical Urban
University and the University of St Thomas Aquinas in Rome. He was
called into the diplomatic service of the Holy See in 1994, after
attending the Pontifical Ecclesiastical Academy in Rome. He served as
Secretary at the Apostolic Nunciatures in Ghana, Togo and Benin,
in Paraguay, in Algeria and Tunisia and as Counselor at the Permanent
Mission of the Holy See to the United Nations at Geneva. In 2006 he
became the Desk Officer for human rights and United Nations
Organizations in the Vatican Secretariat of State. In 2007 he was
appointed Head of Protocol of the Secretariat of State of His Holiness.
His publications include The Birth of Systematic Theology in Contemporary Black Africa, The Courage to Change: Take Off Your Shoes, as well as numerous articles and a number of reflections on theology in Africa, published both in L'Osservatore Romano1.
"The truth might be hard to say, painful to bear or even drastic for the truth sayer but still needed to be said". ALISON.