Le soleil levant à Mani-Utenam
Toute au long de
ma vie, je n'avais jamais compris la joie de voir le soleil se lever ou se
coucher. Pour moi, toute allait de soi. Le soleil se lève et se couche
naturellement chaque jour et c'est tout. Mais depuis que je suis arrivé à Mani-Utenam,
Côte-Nord du Québec, j'ai commencé à voir les choses autrement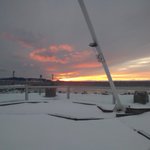 Le Soleil couchant à Sept-Îles
Je l'ai peut-être
mieux compris lors d'une visite à nos confrères prêtres de la paroisse St Ange
Gardien de Sept-Îles. Avec mon confrère P. Gérard Boudreault, O. M.I, nous
sommes allés passer quelques temps de notre après-midi avec les prêtres qui
servent dans cette belle paroisse.
Un moment de fraternité et d'échange d'idée.
Mais au moment de retourner, je me suis rendu compte qu'il y avait quelque chose
de plus dans le soleil qui se lève ou qui se couche. Je me suis rendu compte
que le soleil en se couchant se montre vraiment d'une manière surprenante, très
belle et admirable.
Cette scène m'a
de nouveau rappelé que depuis quelques jours, je constatais déjà la joie qui
m'animait chaque fois que le soleil s'est timidement levé. A vrai dire, il me
faisait non seulement voir la beauté cachée d'une réalité que je connaissais
très bien, mais aussi de bien comprendre le fameux poème du St François
d'Assisse : Le frère Soleil. ( Le Psaume de la Creation)
"The truth might be hard to say, painful to bear or even drastic for the truth sayer but still needed to be said". ALISON.