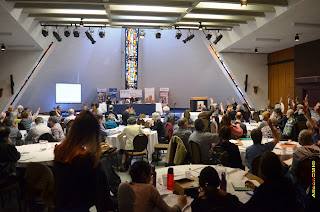 Between 22-24th April, 2016, the
members of Development and Peace of the Dioceses of Quebec and New Brunswick, hosted
their annual Regional Assembly at the Campus Notre-Dame-de-Roy, Quebec. The
participants were francophone members, facilitators and observers of Development
and Peace of mainly these two provinces and other francophone dioceses of
Canada. The theme of this year's annual assembly, which regrouped more than
hundred attendees, was "Let us create a Climate of Change."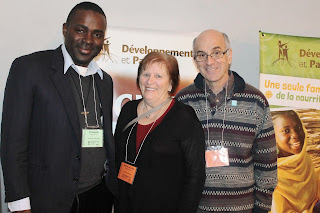 The Assembly commenced with a campaign on a
free bottled water zone which was followed by a presentation of two
representatives of CEPROSI (Centro de promocion de Salud integral). They
presented the mission and project of this Bolivian partner of Development and
Peace, Canada.
Ceprosi, in effect, is is an organization
working to support grassroots micro-enterprise projects that provide
sustainable economic opportunities
for women in local communities as well as to
improve the nutrition and health of the wider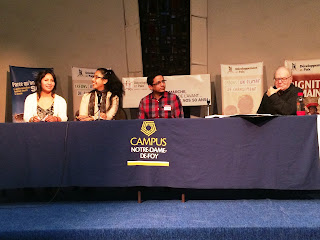 community. At the end of their
presentation, the theologian Jacques Racine, presented the evolution of Social
Doctrine of the Church to the members of the Assembly.
The second day was the most intensive of all as
it was constituted, in the morning hours, mainly of deliberations, nomination
of different members of committees, a presentation of the Director General and
that of the the young ambassadors and ambassadresses of Development and Peace.

During the afternoon section, there were
different workshop organized around the 50th anniversary of
Development and Peace which will take place next year.
Other activities continued later in the evening
hours after evening mass and supper.
The 2016 Annual Assembly, ended by Midday on
Sunday after the adoption of the assembly's propositions and nomination of members
of national council of Development and Peace. The question of finding a way of
promoting and collaborating with the Catholic Bishop Conference of Canada on
questions regarding the First Nations of Canada was also largely touched. This
year's Assembly was a very interesting one as it continued to show that in
spite of all the hardships connected with diminishing of donors and funds of
development, the members of Development and Peace are still ready to go a long
way to see that our brothers and sisters in need are not left.
Ali C. Nnaemeka (mekaalison@gmail.com)
"The truth might be hard to say, painful to bear or even drastic for the truth sayer but still needed to be said". ALISON.