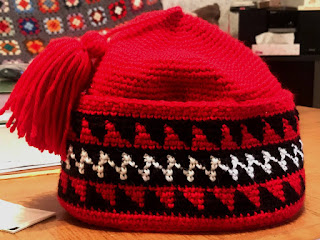 Dès mon plus jeune âge, j'aimais couper mes cheveux
tout entier. Au petit séminaire par exemple, le coiffeur était un ami
personnel. La coiffure était donc évidemment gratuite, mais quand il y a seulement
deux étudiants pour couper les cheveux de plus de deux cents autres étudiants,
le fil d'attente devient très important. Le pire c'est que j'étais vraiment obsédé par
ma coiffure qu'il me fallait le faire chaque semaine. Un de mes enseignants
était tellement tanné de voir mon crâne qu'il a voulu me l'interdire. J'ai donc
dû demander la permission du recteur pour pouvoir continuer à avoir la coiffure
sentimentale. Au fil des années, j'ai essayé d'autres styles qui m'ont fait
oublier cette coupe de cheveux chérie de mon enfance.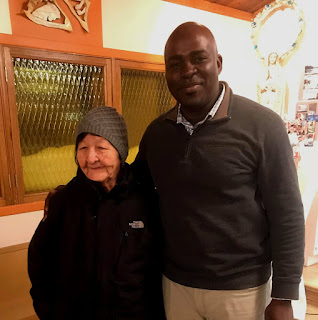 Mais depuis mon arrivée au Québec, cette idée s'est
éloignée encore de plus. Vous comprendrez qu'on ne laisse pas son crâne nu
quand il fait -41 C. Pourtant, aujourd'hui, je me suis retrouvé avec cette
coiffure magique. Une erreur ou une recherche des années de mon enfance, me
demanderez-vous ? Eh bien, ma tondeuse m'a lâché en plein coupage de mes
cheveux. Mais comme mes années de rasage m'avais rendu expert avec le rasoir, j'ai
donc pris possession d'une lame de rasage pour me confectionner ce crâne nu qui
m'a rendu presque non reconnaissable par certains membres de notre communauté. Mais
ce n'est sûrement pas cette histoire qui me fait penser à votre possible incrédibilité.
C'est plutôt ce qui vient après cela.
Étant donné que ces événements sont arrivés un premier
vendredi de Carême, c'était donc évident qu'on devrait avoir plus de personnes
qui auraient la possibilité de s'étonner de mon nouveau style de coiffure. Ne
vous demandez pas pourquoi, car j'ai prévu de vous l'expliquer. Faites
seulement un petit retour à votre enfance. Vous vous souvenez encore de
l'activité à laquelle vous aviez l'habitude de participer à l'église les
vendredis du temps de carême ? Eh bien, c'est la journée des chemins de croix.
C'est cette prière où on passe le temps à revoir l'histoire d'un monsieur
appelé Jésus, qui bien qu'il soit fils de Dieu, a été vendu par l'un de ses
propres disciples, condamné par les chefs de sa religion et abandonné par le
reste de ses amis. Si vous avez encore une idée quelconque de cette forme de
prière, sachez que ce n'est pas encore désuet et peut-être encore fait
aujourd'hui. C'est pourquoi c'était justement à la fin de cette prière que
l'objet de mon histoire a eu lieu.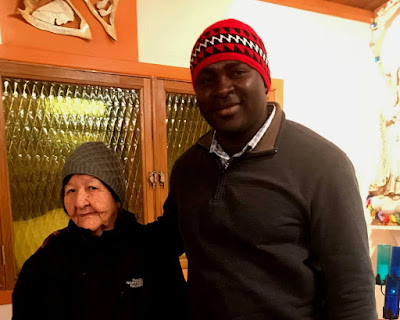 D'habitude, après nos célébrations, il y a toujours un
temps d'échange entre nous, comme toute communauté chrétienne qui respecte
encore ce nom est censée le faire. Ce vendredi même, lors de cet échange, une
aînée, s'est approché avec sa fille et m'ont surpris avec un cadeau hors du commun.
Comme si elle avait su que mon crâne s'est exposé à la fraîcheur de Tshiuetin –
le vent du nord, elle m'a apporté deux tuques Naskapi pour en choisir une. Un
geste qui m'a tellement ému que mon cœur, cette partie héritée de ma mère, a
voulu pleurer d'émotion, mais ma tête, le côté arrogant et insoumis hérité de
mon père l'a empêché. Ce cadeau, il faudra le souligner, n'est pas le premier
de ce genre, car le peuple innu est un peuple à une générosité incomparable,
mais son timing est, selon moi, loin d'être
fortuit. Donc, pendant que votre raison cartésienne vous fait voir en cet
événement une coïncidence, mon cœur de pèlerin nomade me fait voit en ce geste
le pur signe de la divine providence.
Ali C. Nnaemeka (mekaalison@gmail.com)
"The truth might be hard to say, painful to bear or even drastic for the truth sayer but still needed to be said''. Alisonomi.