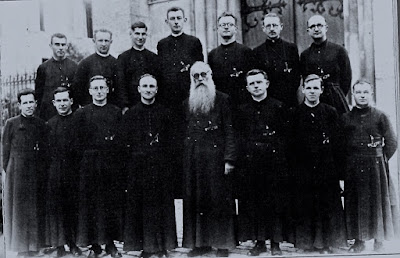 Les Premiers Oblats au Cameroun
Dans l'introduction de l'Écho du Conseil de juin 2018 de la province oblate du Cameroun, le supérieur provincial, P. Édouard Dagavounansou, o.m.i, écrivait pour rappeler à ses frères qui ont reçu une nouvelle obédience et assumeront des nouvelles responsabilités, la nécessité de toujours s'assurer qu'il y ait une suite dans les projets pastoraux de leur communauté chrétienne.
Pour les amener à s'intéresser à la vie de l'Église locale qui les accueille et de leur rappeler qu'un missionnaire est un envoyé (missionné) qui est appelé à être accueilli par une communauté chrétienne il leur dit : «
à tous
,je recommande de s'intéresser à l'histoire de l'Église locale qui vous accueille, à connaitre ses coutumes et de développer une attitude missionnaire oblate
.»Ainsi, un missionnaire n'est ni celui qui s'envoie ni le propriétaire de la mission—l'œuvre missionnaire lui est confiée. Il n'est donc pas un chef, mais un serviteur de sa communauté.
C'est ainsi qu'en leur rappelant de s'intéresser à l'histoire de l'Église locale afin de développer une attitude missionnaire oblate, il les amène à une des dimensions que notre dernier chapitre général a fortement soulignées : sortir de nos zones de confort. Le Chapitre le formule en ces mots : «
Face à ces situations, l'Église nous appelle fermement à sortir de notre confort pour rejoindre les "périphéries" et prendre notre part à l'accomplissement du Royaume. Nous sommes appelés à écrire une nouvelle page d'Évangile avec une créativité et une audace toute mazenodienne.
» (
Actes du 36ème Chapitre Général, 2016, No. 4
)
.
Cet idéal missionnaire a été au cœur des pères fondateurs de la mission oblate du Cameroun. Mgr Yves plumey le faisait voir dans sa recommandation aux confrères :
«
Nous avons la responsabilité de prendre en charge la région [paroisse] qui nous a été confiée […] La formation solide de nos catéchumènes doit être notre grande préoccupation missionnaire […] Notre influence sera faible tant que nous ne parlerons pas la langue […] la visite des villages. Plusieurs écoles vont être fondées dans un proche avenir […] De cette œuvre dépend, en partie, l'avenir de nos missions…
»
Ici, je m'intéresse plus aux similitudes qui existent entre ces paroles de Mgr Plumey et les recommandations de notre dernier chapitre général. Pour les pères fondateurs de la province du Cameroun comme pour nos capitulaires, il est nécessaire d'investir dans la formation des membres de communautés chrétiennes : «
nous renouvelons notre soutien à la formation et la mise en responsabilité́ des laïcs auxquels nous sommes envoyés et avec lesquels nous partageons une mission commune
»
(
Actes du 36ème Chapitre Général, 2016, No. 5)
.
Bref, les membres de nos communautés chrétiennes sont avec et comme nous, des disciples-missionnaires.
Le Chapitre souligne aussi que pour mieux répondre aux appels du monde d'aujourd'hui, les oblats sont appelés à se former dans les domaines anthropologiques, missiologiques ainsi qu'économiques et médiatiques
». Et avec nos pères fondateurs, je dirais même dans les domaines linguistiques et sociologiques, car Mgr Plumey disait à ses frères : «
notre influence sera faible tant que nous ne parlerons pas la langue
» du peuple auprès duquel nous sommes envoyés.
Or, dans la province du Cameroun, cet aspect de l'apprentissage de la langue est le maillon faible de notre stratégie missionnaire aujourd'hui. C'est très décevant de constater que, contrairement à nos premiers pères qui apprenaient avec assiduité les langues des peuples auxquels ils étaient envoyés, nous les jeunes missionnaires, nous ne nous intéressons presque plus aux langues africaines même si la majorité de chrétiens ne parle pas les langues européennes.
Puisse cet appel de notre provincial être aussi compris dans le sens de l'apprentissage des langues locales de nos communautés. Que l'intérêt à la culture et aux coutumes des communautés qui nous accueillent fassent partie de nos projets missionnaires. C'est une mission difficile mais nous devons nous investir et se faire violence car la maitrise de la langue et de la culture nous aidera à mieux servir le peuple auquel nous sommes envoyés et à avoir un accès privilégié à leur vision du monde.
Ali C. Nnaemeka (mekaalison@gmail.com)
"The truth might be hard to say, painful to bear or even drastic for the truth sayer but still needed to be said". ALISON.