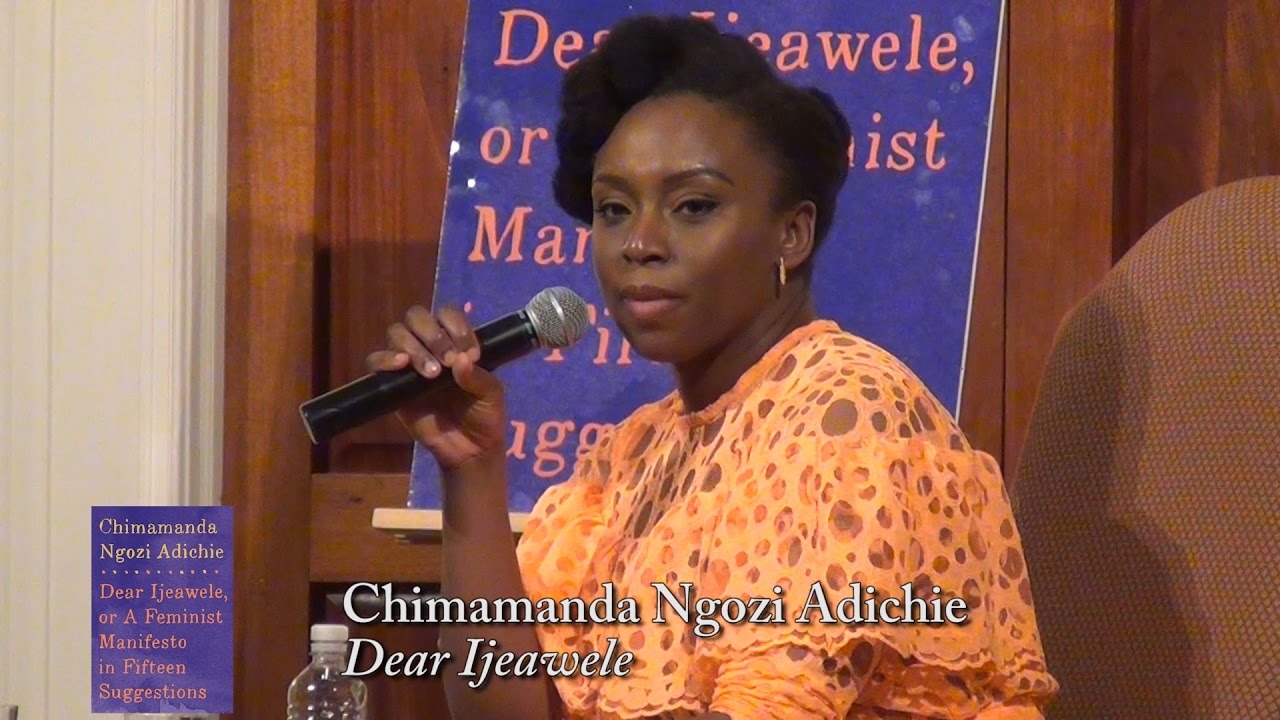 I will be attempting to summarize 𝔻𝕖𝕒𝕣 𝕀𝕛𝕖𝕒𝕨𝕖𝕝𝕖 – A Fᴇᴍɪɴɪsᴛ Mᴀɴɪꜰᴇsᴛᴏ ɪɴ Fɪꜰᴛᴇᴇɴ Sᴜɢɢᴇsᴛɪᴏɴs of
Chimamanda Ngozi Adichie
. I am going to resume each number, in few sentences, as I understand it. It is not a question of analyzing the text here. I am just going to give the reader an opportunity to discover this beautiful text.
Here are the two major guidelines to feminism according to the author:
1. 𝗦𝗲𝗹𝗳-𝗘𝘀𝘁𝗲𝗲𝗺: 𝗔 𝘄𝗼𝗺𝗮𝗻'𝘀 𝗶𝗺𝗽𝗼𝗿𝘁𝗮𝗻𝗰𝗲 𝗶𝘀 𝗶𝗻𝘁𝗿𝗶𝗻𝘀𝗶𝗰 𝘁𝗼 𝗵𝗲𝗿 𝗵𝗲𝗿𝘀𝗲𝗹𝗳 𝗮𝗻𝗱 𝗻𝗲𝘃𝗲𝗿 𝗶𝗻 𝗮 𝗿𝗲𝗹𝗮𝘁𝗶𝗼𝗻𝘀𝗵𝗶𝗽 𝘄𝗶𝘁𝗵 𝗮 𝗺𝗮𝗻.
𝟮. 𝗠𝗮𝗻-𝗪𝗼𝗺𝗮𝗻 𝗲𝗾𝘂𝗮𝗹𝗶𝘁𝘆 𝗮𝘀 𝘁𝗵𝗲 𝗴𝗼𝗹𝗱𝗲𝗻 𝗿𝘂𝗹𝗲: 𝗬𝗼𝘂𝗿 𝘀𝘁𝗮𝗻𝗱𝗮𝗿𝗱 𝗼𝗳 𝗷𝘂𝗱𝗴𝗲𝗺𝗲𝗻𝘁 𝘀𝗵𝗼𝘂𝗹𝗱 𝗮𝗹𝘄𝗮𝘆𝘀 𝗯𝗲 𝘂𝗻𝗶𝘃𝗲𝗿𝘀𝗮𝗹 𝗮𝗻𝗱 𝗻𝗲𝘃𝗲𝗿 𝗴𝗲𝗻𝗿𝗲-𝗯𝗮𝘀𝗲𝗱.
𝟙. ℝ𝕖𝕝𝕒𝕥𝕚𝕧𝕚𝕫𝕖 𝕟𝕠𝕥 𝕄𝕠𝕥𝕙𝕖𝕣𝕙𝕠𝕠𝕕 𝕓𝕦𝕥 𝕒𝕝𝕨𝕒𝕪𝕤 𝕕𝕖𝕗𝕚𝕟𝕖 𝕪𝕠𝕦𝕣𝕤𝕖𝕝𝕗 𝕗𝕚𝕣𝕤𝕥 𝕒𝕤 𝕒 𝕙𝕦𝕞𝕒𝕟 𝕓𝕖𝕚𝕟𝕘 𝕒𝕟𝕕 𝕟𝕠𝕥 𝕒𝕤 𝕒 𝕄𝕠𝕥𝕙𝕖𝕣
It is necessary first for you to accept all it entails to be a human being. Always give your best but do not be afraid either to ask for help or accept you do not have an answer to the situation at hand. Remember that every responsibility in the house is not on you. As you look for answers to all day-to-day household challenges, do not forget your desires and happiness.
𝟚. 𝔻𝕠 𝕟𝕠𝕥 𝕓𝕖 𝕒 𝕊𝕚𝕟𝕘𝕝𝕖 𝕄𝕠𝕥𝕙𝕖𝕣 – 𝕚𝕗 𝕚𝕥 𝕚𝕤 𝕟𝕠𝕥 𝕥𝕙𝕖 𝕔𝕒𝕤𝕖 – 𝕓𝕦𝕥 𝕕𝕠 𝕚𝕥 𝕥𝕠𝕘𝕖𝕥𝕙𝕖𝕣
Do not take all the responsibilities of caregiving on your shoulder. Let your husband play his role. His contribution to the family up keeping should not be seen as some help but his parenting duty. Raise your daughter together and please do not be preoccupied with his not being able to do it as you could. His love for your baby is enough to accomplish the rest.
𝟛. 𝕋𝕖𝕒𝕔𝕙 𝕪𝕠𝕦𝕣 𝔻𝕒𝕦𝕘𝕙𝕥𝕖𝕣 𝕥𝕙𝕒𝕥 𝔾𝕖𝕟𝕣𝕖 𝕚𝕤 𝕟𝕠𝕥 𝕒 ℝ𝕠𝕝𝕖
Her objective should be to develop herself as an individual and not just as a girl. From very early moments of her life, teach her to explore her limits. She should know that her limit, in life, is boundless and that she is not obliged to conform herself to the moulds the society makes for girls.
𝟜. 𝕋𝕖𝕒𝕔𝕙 𝕙𝕖𝕣 𝕖𝕧𝕖𝕣𝕪𝕥𝕙𝕚𝕟𝕘 𝕖𝕩𝕔𝕖𝕡𝕥 𝔽𝕖𝕞𝕚𝕟𝕚𝕤𝕞 𝕃𝕚𝕥𝕖
Neither should she see her right as a privilege not her subordination as complementarity. Let her not feel that a man is gentle just because he does not step on her toes. Whatever cannot be seen as a privilege when she does it to a man is not a privilege when it is done to her.
𝟝. 𝕋𝕖𝕒𝕔𝕙 ℍ𝕖𝕣 𝕥𝕙𝕖 𝕍𝕒𝕝𝕦𝕖𝕤 𝕠𝕗 ℝ𝕖𝕒𝕕𝕚𝕟𝕘 𝔾𝕠𝕠𝕕 𝔹𝕠𝕠𝕜𝕤
Take every measure within your reach to make her form the habit of reading. Even though she should ordinarily learn to read by seeing you read, pay her to do that if need be, for in good books lay the secrets to her success in life.
𝟞. 𝕋𝕖𝕒𝕔𝕙 ℍ𝕖𝕣 𝕋𝕙𝕒𝕥 𝕎𝕠𝕣𝕕𝕤 𝕄𝕒𝕥𝕥𝕖𝕣
Make sure she forms the habit of questioning words, languages and even praises that are addressed to her. Let her know that she should not just be appreciated for being a woman. Let her instead aspire to be appreciated and judged on her just measure.
𝟟. 𝕋𝕖𝕒𝕔𝕙 ℍ𝕖𝕣 𝕟𝕖𝕧𝕖𝕣 𝕥𝕠 𝕔𝕠𝕟𝕤𝕚𝕕𝕖𝕣 𝕄𝕒𝕣𝕣𝕚𝕒𝕘𝕖 𝕒𝕤 𝕒𝕟 𝔸𝕔𝕙𝕚𝕖𝕧𝕖𝕞𝕖𝕟𝕥
She should not condition her development to marriage for she is not defined by it. And even when she gets married, she should remember that marriage should not change her identity.
𝟠. 𝕋𝕖𝕒𝕔𝕙 ℍ𝕖𝕣 𝕋𝕙𝕒𝕥 𝕊𝕖𝕝𝕗-𝕡𝕚𝕥𝕪 𝕒𝕟𝕕 𝕃𝕚𝕜𝕒𝕓𝕚𝕝𝕚𝕥𝕪 𝕀𝕤 ℕ𝕠𝕥 𝕒 𝕃𝕚𝕗𝕖 𝕆𝕡𝕥𝕚𝕠𝕟
She should know that nothing obliges her to seek to be liked and accepted by everyone. She should just learn to be kind, gentle, brave but she has every right to express her mind whether her points of view are accepted by others or not.
𝟡. 𝕋𝕖𝕒𝕔𝕙 ℍ𝕖𝕣 𝕥𝕙𝕖 𝕊𝕖𝕟𝕤𝕖 𝕠𝕗 𝔻𝕚𝕘𝕟𝕚𝕥𝕪 𝕒𝕟𝕕 𝕥𝕠 𝕓𝕖 ℙ𝕣𝕠𝕦𝕕 𝕠𝕗 ℍ𝕖𝕣 𝕀𝕕𝕖𝕟𝕥𝕚𝕥𝕪
She should not be afraid to be Igbo, an African and a black. Give her every opportunity to discover who she is, her history and culture. She should, however, learn to embrace the positive aspect of her culture and refute every wrong norm of her society.
𝟙𝟘. 𝕀𝕟𝕚𝕥𝕚𝕒𝕥𝕖 ℍ𝕖𝕣 𝕖𝕒𝕣𝕝𝕪 𝕖𝕟𝕠𝕦𝕘𝕙 𝕥𝕠 𝔸𝕝𝕥𝕖𝕣𝕟𝕒𝕥𝕚𝕧𝕖 𝕎𝕒𝕪𝕤 𝕠𝕗 𝕤𝕖𝕖𝕚𝕟𝕘 ℍ𝕖𝕣𝕤𝕖𝕝𝕗 𝕒𝕟𝕕 ℍ𝕖𝕣 𝔸𝕡𝕡𝕖𝕒𝕣𝕒𝕟𝕔𝕖
She should have alternative approaches to sports, clothing, hairstyles, role models and lifestyle. Encourage her to practise different types of sports. Let her choose what interests her most in fashion both in her choice of hairstyles and dressings.
Avoid associating dressing codes to morality why addressing her. Be also sure to make it a question of taste and attractiveness. Surround her with good models to help her from her personality.
𝟙𝟙. 𝕊𝕒𝕧𝕖 ℍ𝕖𝕣 𝔽𝕣𝕠𝕞 𝕥𝕙𝕖 ℂ𝕦𝕝𝕥𝕦𝕣𝕒𝕝 𝔸𝕤𝕤𝕠𝕔𝕚𝕒𝕥𝕚𝕠𝕟 𝕠𝕗 ℕ𝕠𝕣𝕞𝕤 𝕥𝕠 𝔹𝕚𝕠𝕝𝕠𝕘𝕪
Teach her that the biological arguments that are usually used to justify men's superiority over women are ill-conceived and misogynistic. There is nothing that proves the norms in which men have a right of ownership of the child or men's promiscuous as just normal if not a wrong conception of biology.
𝟙𝟚. 𝔾𝕚𝕧𝕖 ℍ𝕖𝕣 𝕒 𝕊𝕠𝕦𝕟𝕕 𝕊𝕖𝕩𝕦𝕒𝕝 𝔼𝕕𝕦𝕔𝕒𝕥𝕚𝕠𝕟 𝕍𝕖𝕣𝕪 𝔼𝕒𝕣𝕝𝕪
She should know herself enough to the extent of having the right words to discuss her sex life and sex in general with you. Avoid making her feel ashamed of discussing her sex and her body. She should know not to associate sex with shame but also not to ignore the emotional and physical consequences associated with it.
𝟙𝟛. 𝔼𝕢𝕦𝕚𝕡 ℍ𝕖𝕣 𝕨𝕚𝕥𝕙 𝕥𝕙𝕖 𝕋𝕠𝕠𝕝𝕤 𝕟𝕖𝕔𝕖𝕤𝕤𝕒𝕣𝕪 𝕥𝕠 𝕤𝕙𝕒𝕣𝕖 ℍ𝕖𝕣 𝔽𝕖𝕖𝕝𝕚𝕟𝕘𝕤 𝕨𝕚𝕥𝕙 𝕐𝕠𝕦
She should know what love is and the best way to realize that is by initiating her to self-discovery and relationship. Teach her that love is a mutual relationship between two individuals demanding each member to give oneself and receive the other. And that in marriage, she is not subordinate to the man but will bear in mind that it is a relationship of giving-and-taking.
𝟙𝟜. 𝕋𝕖𝕒𝕔𝕙 ℍ𝕖𝕣 𝕥𝕙𝕒𝕥 𝕥𝕙𝕖 𝕆𝕡𝕡𝕣𝕖𝕤𝕤𝕖𝕕 𝕒𝕣𝕖 𝕟𝕠𝕥 𝕒𝕝𝕨𝕒𝕪𝕤 𝕊𝕒𝕚𝕟𝕥𝕤
Let her know that not because women are mainly oppressed by the society that they are all innocent. And that being a woman does not make one a better pair in the society. This she should know because women are human and therefore are constituted of good and bad ones.
𝟙𝟝. 𝔻𝕚𝕗𝕗𝕖𝕣𝕖𝕟𝕔𝕖𝕤 𝔸𝕣𝕖 𝕓𝕦𝕥 𝔻𝕚𝕧𝕖𝕣𝕤𝕖 𝔽𝕠𝕣𝕞 𝕠𝕗 𝔼𝕩𝕚𝕤𝕥𝕖𝕟𝕔𝕖
You should teach her to embrace differences as normal and nothing extraordinary. There must always be the raison d'être of each difference. She should also know that her universe is not the standard of judgement and her cultural background and values are just but among many others.