Many have read the trilogy of R. J. J. Tolkien, but few are rightly intrigued by his ingenuity. Very few readers justly appreciate the newness in Tolkien's comprehension of heroism. As in classic literature, one would have expected strong characters like Gandalf the Great, any of the elves or even the villain, Sméagol, to be the ones to save the day, but Tolkien made a non-traditional choice. He seems to have ignored the tradition that made him and went ahead to create a new one. Yet, it begs how on earth did he come up with Hobbits as heroes if a hero is "a name given to a man of superhuman strength, courage, or ability, favoured by the gods; at a later time regarded as intermediate between gods and men, immortal…" (The Heldentod in Homer: One Heroic Ideal, 1987).
According to Philip Zimbardo, in "What Makes a Hero? The key to heroism is a concern for other people in need – a concern to defend a moral cause, knowing there is a personal risk, done without expectation of reward." In line with this theory, heroes are expected to be morally upright, ready to self-empty and have to be resilient. Besides, in "Our Definition of Hero by Scott T. Allison and George R. Goethals (2015), "heroes are believed to possess eight traits, which we call The Great Eight. These traits are smart, strong, resilient, selfless, caring, charismatic, reliable, and inspiring." They maintain that it's unusual for a hero to possess all eight of these characteristics, but most heroes have many of them."
However, when we look at Frodo Baggins, the Tolkien hero of the Lord of the Rings Trilogy, we question all we know about heroism. For many reasons, ranging from the personality of the heroes to their identity as Hobbits, they lack almost all the heroic characteristics of traditional heroes. Frodo, for example, was in no way strong, not charismatic, maybe caring, but we have no reason to believe he was inspiring. The Hobbit, in Tolkien's terms:
"are (or were) a little people, about half our height, and smaller than the bearded dwarves. Hobbits have no beards. There is little or no magic about them, except the ordinary everyday sort which helps them to disappear quietly and quickly when large stupid folk like you and me come blundering along, making a noise like elephants which they can hear a mile off. They are inclined to be at in the stomach; they dress in bright colours (chiefly green and yellow); wear no shoes, because their feet grow natural leathery soles and thick warm brown hair like the stuff on their heads (which is curly); have long clever brown fingers, good-natured faces, and laugh deep fruity laughs (especially after dinner, which they have twice a day when they can get it)", (J. R. R Tolkien, The Hobbit)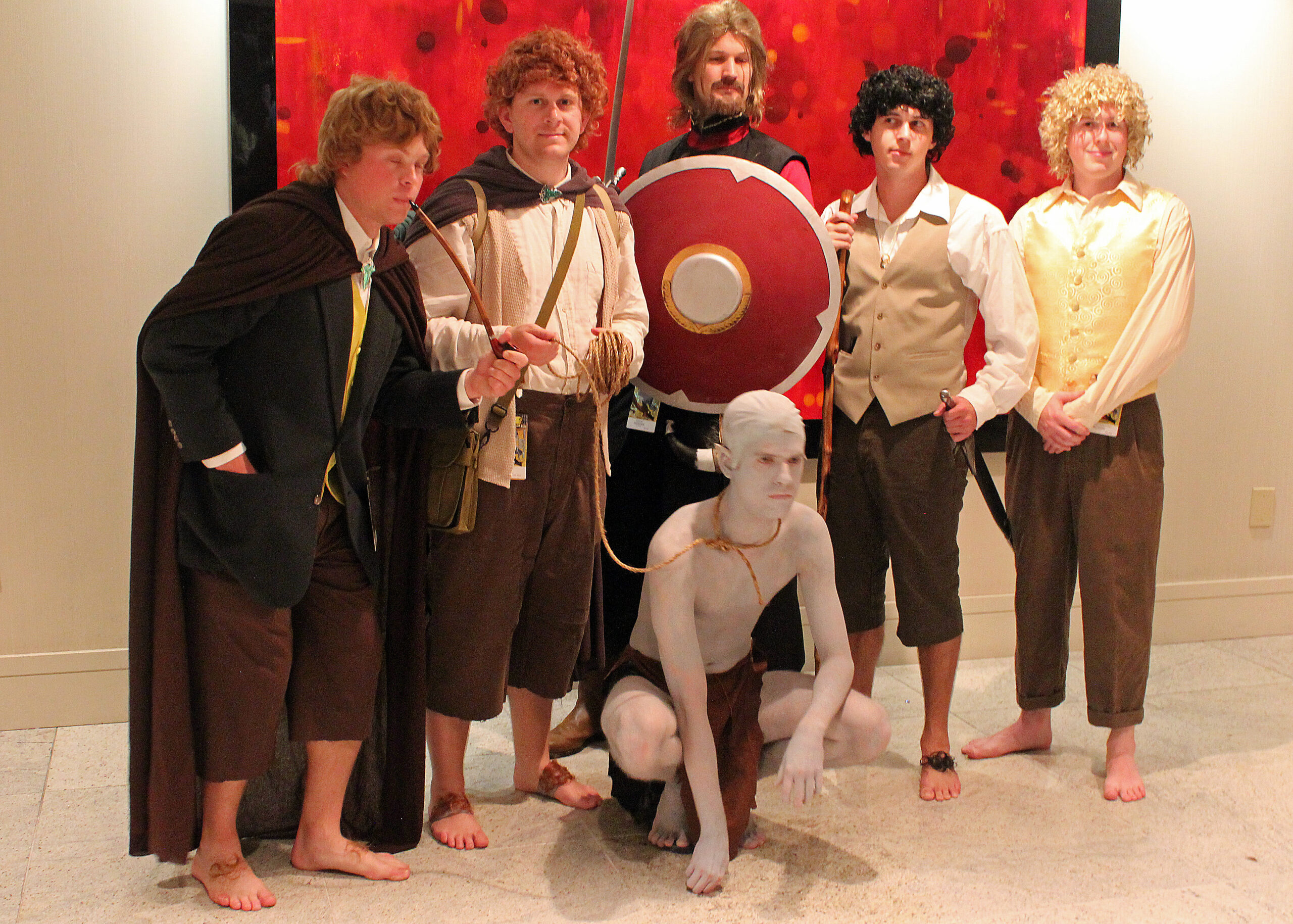 What this means is that Hobbits are not your particular heroes. They are very shy people and content with their little life. And from what we know about Frodo's cousin Bilbo, Hobbits have always proven not to be adventurous people. When Gandalf, the wizard, came seeking a hero, he replied:" … in these parts! We are plain quiet folk and have no use for adventures. Nasty, disturbing, uncomfortable things! Make you late for dinner! I can't think what anybody sees in them." So, Hobbits wouldn't pass automatically in heroes' quests.
Yet, Tolkien chose the Hobbits instead of making Gandalf the hero of his trilogy. And even though Bilbo did not satisfy the traditional definition of heroism, Tolkien substituted him, in his trilogy with another Hobbit, in the person of his reluctant nephew Frodo Baggins.
When Gandalf makes it clear to Frodo that something has to be done about Gollum's (Sméagol) ring, he was never enthusiastic and replied: "I do really wish to destroy it!" […] "Or, well, to have it destroyed. I am not made for perilous quests. I wish I had never seen the Ring! Why did it come to me? Why was I chosen?"
So, why did Tolkien pick a non-traditional hero? Why did he not select among the elves, dwarves, men, wizards, dragons, etc.? To save the universe, why did he choose Bilbo, Frodo, Sam, Merry, and Pippin instead of these great personalities that populate his trilogy?
According to Helen Parshall, Tolkien made a revolutionary choice because "Hobbits show the full trajectory of what courage actually means: starting from a place of innocent fear, acknowledging the fear and its limitations, and then harnessing those fears to do what must be done for the greater good." (Hobbits: Tolkien's Unlikely Heroesheroes/).
Some commentators have tried to see Christocentric heroism in this Tolkien model, but I think it is the contrary. The heroism of Christ was not in his ability to rise above his low status but, on the contrary, it was his willingness to give up his divinity by embracing our human nature through the incarnation. The Tolkien heroes' ingenuity is in their ability to rise above all expectations. I believe his model of heroism is based on the rise of broken humanity, a manifestation of the rise (revenge) of the marginalized and neglected.
Some recent authors have taken this Tolkien paradigm of heroism to the next level. They capitalize not just on the misjudged groups but on the least expected among them. Michael J. Sullivan, in his Legends of the First Empire, chose the Rhunes to save both the universe and the underworld while he had the Fhrey, the Miralyith, the Asendwayr, the Goblin, Dherg, Ghazel, and Grenmorians, and even the gods.
These authors are sending a powerful message. They are pushing us to reevaluate our relationship with the marginalized and our models of development. They also challenge those on the fringe of society to capitalize on their brokenness. Brief, they oblige those who are not always considered by society to know that in them lies greatness beyond every imagination.