There is this false impression that when people dance or exhibit certain forms of bodily movement during Holy Mass or any other liturgical prayer, they are not praying well enough. The idea is theologically absurd and bereft of a reasonable comprehension of worship. Of course, we all agree that there are specific rules in every circumstance. For example, it's not every type of dance we execute on every occasion among the Igbo people of Nigeria. Each ceremony or event calls for a particular kind of dance or masquerade. Suffice it, however, to say that I do not necessarily expect my Asian friends to dance Ogene in their ashram.
So, in this text, I wish to address a post that drew my attention last few weeks ago. I will do that by examining two other circumstances that made me appreciate or question how the churches integrate the idea that Africans pray with their bodies and souls into their catechism classes and seminary formations. This text is not a theological treatise but an act of telling my story as a black man who appreciates both his culture and his faith and respects those of others. I tell my stories and leave them to your appreciation.
During the burial of Queen Elizabeth II, a good friend I greatly admire made one post that got me cringing. In the social media era, many people take every statement for granted. But many fail to understand that storytellers always play with our intelligence. They say what they think we want to hear, but their message is in what their story is not conveying. They call it reading between the lines. 
My friend was genuinely impressed by the decorum accompanying the queen's burial. And he wondered why, in England (the Anglican Church) and in the Vatican (for the Catholic Church), the liturgical celebrations appear, in his words, solemn, simple, peaceful, organized, calm, gentle, clear, enriching, and never noisy. That was not problematic, as the European comprehension of solemness does not surprise me. However, the conclusion created a tone of commentaries that forced me to question the theology and catechism we teach in most seminaries and churches. The conclusion was an open statement that goes thus: "whenever we travel to Nigeria for worship…
… Well, you already know."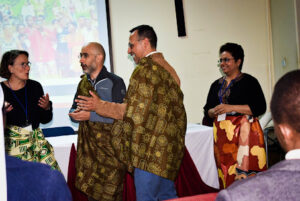 You would expect many people to be outraged when one trivializes the richness of our liturgy and worship system. But no, they clapped for him. And that's what I'm out to question, for
"ikwịkwị nyụrụ ahụrụ si umunne ya kụọrọ ya aka, ha asi ya mba na-anaghi akụrụ onye nyụrụ ahụrụ aka"
— the owl messed up and asked his brethren to applaud him. But, of course, they said no, for you don't praise someone who messed up. Alas, in Igbo culture, we don't explain proverbs to people.
Surprisingly, instead of asking why our rich comprehension of solemness should be waved away with a two-paragraph post, my brothers, and sisters saw a new theology of salvation in it. They shared it in hundreds, and the comments were in thousands, explaining how the Holy Spirit prefers that we stay quiet. Some even went as far as describing how Latin and Greek masses are better.
You might be wondering why I am interested in that now. It is because, a few weeks ago, I attended the Holy Eucharist in a Nigerian community in Ottawa. We will return to that later, but let's now see another example of how the African Church banalizes its inculturation theology.
In July 2022, Pan-African Catholic Theology and Pastoral Network organized a four-day congress (19–22 July 2022) on Society and Pastoral Life. The congress brought together theologians and pastoral agents from different parts of the world. It was one of the century's greatest (African) Catholic thinkers' gatherings in Africa. Theologians from different parts of the Continent, from many countries in Asia, Europe, and North and South America, were present. We will not forget the congress of Nairobi in haste in the annals of the African Catholic Church.  
During one of the sessions, Fr Daniel Franklin Pilario, C.M., a Pilipino theologian, made one beautiful observation. He said that one of the things he admired in the Eucharistic celebration was how people expressed their faith through dances, clapping of hands and joyful expressions that flowed throughout the masses. For this Pilipino theologian who had just made his first visit to Africa, the CUEA choir was an excellent example of making the Church liturgy speak the language of the East African people. Honestly, the liturgical dances were something no one could have ignored as they were gracefully and beautifully executed, solemn, and sacred in every sense.
However, he observed that there were two congregations in those celebrations. One, happy, and indeed in the spirit of the Lord's glorious resurrection celebration, and another gloomy and detached from the joyful atmosphere of the Eucharist. Surprised, we waited for the verdict to be pronounced. And then he asked if the priests and the bishops at the altar constituted a separate Christian community as they stayed like statues throughout those joyful celebrations.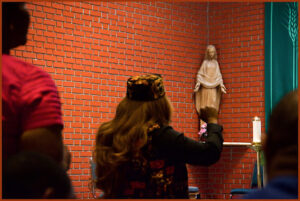 Of course, some priests and bishops tried to participate in the community's joy as much as possible, but his question remains valid. Let's observe another situation as I leave the first story to your judgment. 
As I mentioned, I went to mass in a Nigerian community in Ottawa a few weeks ago. It was a beautiful day, and both the fall weather and the ambiance in the church made the celebration worthy of Eucharistic worship. The women were colourfully dressed in their different indigenous and foreign fabrics and headgear. Anyone who knows how elegantly Nigerian women dress does not need more details, and those who do not know will not appreciate it better, even if I give more information. 
The men, on the other hand, were at their best. And while some were vested in suits, others were in isi agu or formal Sunday dresses. You can't ignore the formality that reigned in that church. Children, though a few they were, dressed like on a Christmas day. All were happy and solemn, even to the chagrin of the demon, if you ask me.  
The choir was a mixture of something else. While one priest was transforming the choristers' voices by shaking the Shekere (Sekere), the other was awakening the ancestors with the sounds coming from the triple udu (conga) set in front of him. The organist was on another planet, causing trouble for Angels, who happened to hear the sounds produced by those musical instruments. So, if solemness is anything outside the ambiance that reigned in that church, I would prefer to stick with the feeling in that church, for God was present therein.
Furthermore, among the three priests at the altar, one was unique in his communion with the entire church. He related to the visible and the invisible church, worshipping God in body and soul, and without any exaggeration, danced to the tune of the "the African Credo" of Jude Nnam. You must see me in such moments to understand that I detest a boring god. If I were an Angel, I would not think twice if I had a choice between a church in that mood and any other one. Yet, some people dare to doubt the sacredness and solemness of our African worship. Yes, I have seen those who abuse that, but they are present in every clime. 
Finally, from these instances, sacredness, or solemness of worship must undoubtedly be seen from people's way of relating with the divine. It must be authentic and emanate from their cultural sensibilities and spiritual dispositions. African comprehension of sacredness does not falter the European sense of sacredness or their ways of expressing solemness. No, theirs is as valid as that of my Indian brethren who sit on the ground in their ashrams or those North Americans I once saw, grim as they were, in a burial ground. Each people have a sense of sacredness, and God finds no problem with them.  
Ali C. Nnaemeka (mekaalison@gmail.com)
"The truth might be hard to say, painful to bear or even drastic for the truth sayer but still needed to be said". ALISON.