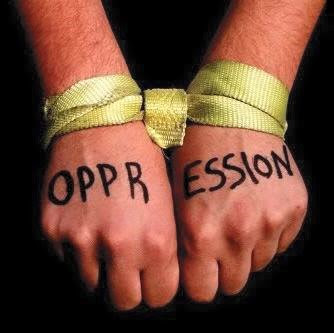 "I am a person who is unhappy with things as they stand. We cannot accept the world as it is. Each day we should wake up foaming at the mouth because of the injustice of things." Hugo Claus.
The list keep growing by the day of young innocent girls (some of who are as young as 13 years old) snatched (some certainly still been snatched) from their parents, forcefully persuaded or hypnotized into accepting and converting to another religion and later married off to (most often than not) their grandfather's age mates without the consent of their parents.
After hearing the stories of Mr Ndubisi Nicodemus and other parents on AIT, who obviously the pathetic case of Ese Oruru gave the impetus to come out and tell their bitter and unbelievable stories and experiences , I squeezed myself at a corner of my room struggling , pulling and forcing myself not to accept this wickedness as normal and a culture.
I find it hard these days to feel comfortable , be at peace with myself , move around , hang out with friends , eat or sleep as a result of my conscience constantly and consistently been tormented by the agonizing and heartbreaking cries of help in my subconscious by these abducted and imprisoned "Little Babies" whose new job description is to satisfy the selfish sexual desire of some "BIG,POWERFUL and UNTOUCHABLE MEN". More heartbreaking, troubling and scaring is the obvious silence to these injustices and oppressions by those who should speak up and influence things positively .
I often imagine how emotionally shattered, physically and socially helpless the poor parents of these abducted girls would be, how they possibly have sought for help from organizations, institutions, and individuals who they consider influential but to no success and how they have now surrendered their fate to divine Providence.
My heartaches and bleed for these innocent, but oppressed little girls who are now subjected to untold physical and emotional molestations, abuse and torture.
How do we feel safe in a nation where the poor and less privileged are maltreated, honestly there obviously seem to be a conspiracy of silence by our supposedly human right activists. Have we forgotten that injustice anywhere is a threat to justice everywhere ? Aleksand Solzhenitsyn once said " in keeping silent about evil, in burying it so deep within us that no sign of it appears on the surface, we are implanting it, and it will rise up a thousand fold in the future. When we neither punish nor reproach evildoers, we are thereby ripping the foundations of justice from beneath new generations."
I ask again where are the human right activists who are supposed to act to provide and protect human rights such as FREEDOM FROM UNLAWFUL IMPRISONMENT. Where are the Oby Ezekwesili's, Adams Oshmole's, Stephanie Linus Okerekes , Rev Fr. Ejike Mbaka, Uzo Odonwodo ? How come the security agencies , NAPTIP, NHRC now seem to be quite and clearly looking the other way. Is this a case of some people being untouchable and more equal than others ? Or is it just a case of "letting the sleeping dog lie simply because it doesn't affect me directly ?" Hmmmm " if the misery of the poor be caused not by the laws of nature , but our institutions , great is our sin" Charles Darwin. According to Bill O'Reilly " There comes times you have to fight . No way around it. At some point , everyone of us is confronted with Danger and injustice. How we choose to combat that challenge is often life – defining. You face difficulties head-on, or run from them, or ignore them until they consume you. But no one escapes conflicts. No one".
My regards to men like Femi Fani-Kayode , who seem to be one of the lone voices in the wilderness, speaking out against injustice and oppression in Nigeria.
"Justice will only exist where those not affected by injustice are filled with the same amount of indignation as those offended." Plato .
Ugwuoke Tochukwu writes from Enugu state.
Ali C. Nnaemeka (mekaalison@gmail.com)
"The truth might be hard to say, painful to bear or even drastic for the truth sayer but still needed to be said". ALISON.